OUR ETHOS
Welcome to Downshire Tennis Club - We are aiming to develop a club where communities come together.
Our small village club of 100 members in 1994, has transformed into the largest playing membership in Ulster, with an average 500 members over the past 10 years. Due to our continued growth we have recently developed our facilities, whilst keeping our family ethos of volunteering to serve the club, welcome new members and help them integrate into the Hillsborough community.
FIND OUT MORE
---
---
2012 & 2015
Ulster Club of the Year
2004
Tennis Ireland Club of the Year
---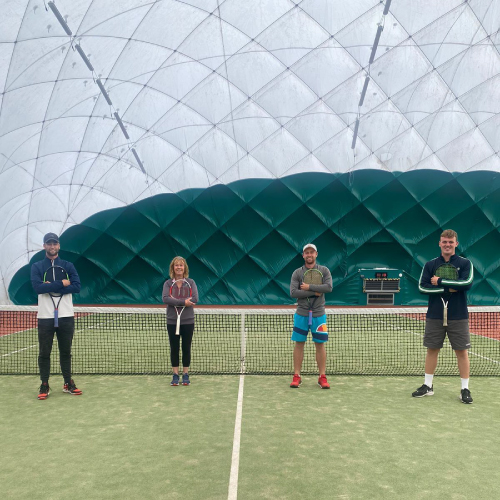 COACHING
Wanting to start a new hobby or just up your game?
Coaching is available all year round for all levels of player. All members can arrange private lessons at times that suit them, or join a coaching class. There are free classes for new members in autumn each year.
---
---
Latest News
2021-07-19
Kirk's Bakery North of Ireland Championships 2022
Serving up a slice of the action at the launch of the 2022 Kirk's Bakery North of Ireland Tennis Championships […]
See More
---
Sponsors
Downshire Tennis Club Sponsors
We are indebted to our club sponsors and would ask our members that where they have a choice to use the services of a business that they consider our respective sponsors.
Over the past 5 years we were privileged to have Johnston Campbell Financial Advisers as our Principal Sponsor. Our thanks go to Graham Glover and his team for their support.
From 2022 we are delighted that Kirk's Bakery have taken over this mantel and we are grateful to Sonja and Robert Kirk for their commitment to Downshire Tennis Club going forward.
Club Partners Include
FOMO Technology
The Hillside
Neal Lucas Recruitment
Smyth Patterson
Thompson Mitchell Solicitors

---
Join the club
Love playing tennis? Become a member!
At Downshire we are passionate about tennis and have an ethos of being friendly, welcoming new members and serving the community. Our membership age ranges from 3 to 83 and all with varying abilities. You can be sure there's something for everyone.
FIND OUT MORE